The Import section has been updated to simplify the ingestion process – you can now filter files and search for them.

Here's how you can do it in a few simple steps:
Log into your Jatheon Cloud account as the Account Administrator
Head to the Import section
On the right side, you'll see a dropdown that has the All Statuses option as selected by default.
You can change the filter status by clicking the dropdown and choosing one of the presented options:
All Statuses
Uploaded
Processing
Completed
Not Imported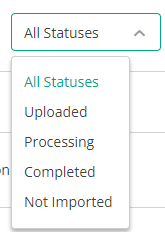 Once the status is chosen, the table below will be updated and show the appropriate files.

Besides filtering, you can also use the Search bar to find the specific file(s) by the File Name. You'll need to enter at least two characters to perform a search by pressing the Enter button on your keyboard. The entered search term will be checked against all the File Names, no matter if the File Name starts, ends in or contains the search term in the middle of it.
Both the Filter and Search term will be taken into consideration when presenting the results in the table.