If you're a user with the permission to perform Simple or Advanced Search, once you get the Search Results, you'll be able to refine them by clicking the Filters drop-down (located on the right-hand side from all the bulk actions).
You will then get several options for refining the results (Note that the relation between the selected filters will be AND, whereas the relation within a single filter is OR):
Sender – you will get a drop-down listing different Senders (from email address) if there are more than one.

Dates – you will get a drop-down listing only the years and months containing at least one search result. Please note that you can select only one option (the entire year or one month).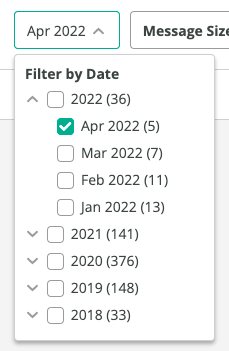 Message Size – you will get a drop-down listing only the options for Message Size according to your Search Results (e.g. if there are no emails that meet the 5-25MB size criterion, that option will not be presented dropdown). You will be able to select multiple options.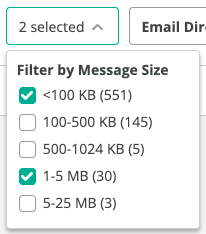 Email Direction – you will get three options – Internal, Incoming and Outgoing, if there are any emails that meet any of these criteria. You will only be able to select one of these options.

Please also note that the Email Direction filter can only filter out emails processed after Mar 7, 2022, when this feature was introduced.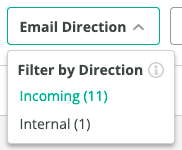 Tags – displaying all the tags that the listed search results contain. There will be an OR relation between the selected tags since you can select more than one tag.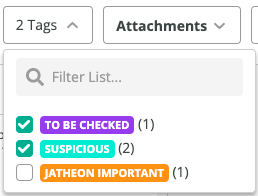 Attachments – listing all the attachment types that the search results contain. You will be able to select only one of these types.

If the emails in the search results do not contain one of the possible attachment types, that attachment type will not be presented in the dropdown list.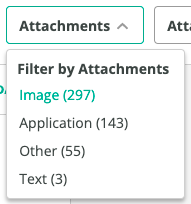 Attachments Number – displays the number of the attachments according to the presented Search Results. If no emails contain attachments, only the 0 Attachments option will be presented.

You will be able to select multiple options.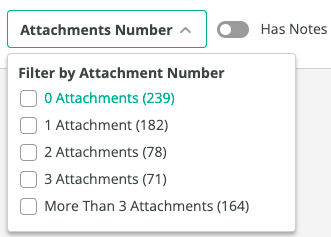 Has Notes – The switch can be used to filter out all the results that contain at least one note.
When at least one filter is selected, the drop-down will present the number of selected single filters.

Also, as soon as one filter is selected, the Reset Filters link will appear on the left to allow you to quickly reset all the selected filters at once.