Every user on Jatheon Cloud has the option to use Personal Tags. Users can now share their personal tag(s) with other users belonging to the same organization by taking the following steps:
Log into your Jatheon Cloud account
Head over to the Personal Tags section
Under the My Tags tab, you will find all of your Personal Tags
Click More menu and select the Share Tag option


A pop-up will appear showing a dropdown with the list of all the users that you can share the Personal Tag with
You can select one or more users and search for a specific user by entering their email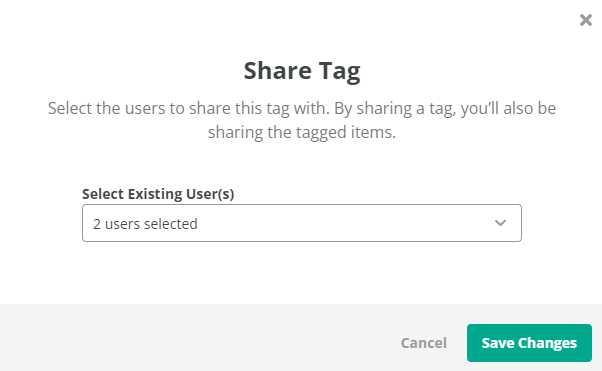 Once you select all the users you want to share the Personal Tag with, click the confirmation button and you will be presented with the notification confirming the successful action.




The Shared With column shows the number of users a tag was shared with. If you click on it (this option will be active in case there is at least one user), a pop-up will open and you'll be able to remove or add more users to share the tag with.


In case you want to see the list of all the Personal Tags that have been shared with you, select the Shared With Me tab. Under Tagged Emails, you can click on the number of emails link and you will be redirected to the Search Results section where all the emails belonging to the Shared Personal Tag will be available.

Please note that once you are presented with the emails tagged with the Shared Personal Tag, you will not be able to perform some actions, e.g. Applying/Removing a Tag, Adding a Note, Adding Email to Case, Reply, Reply to All, Restore and Redact.