As an MSP Admin/Account Admin, you can manage Expunge Time for any of your Clients/your organization.
To do so, follow these steps:
Log into Jatheon Cloud and head over to the:


MSP Admin

: Clients section


Account Admin

: Company Settings (choose this option in the main header).

MSP Admin

: Find the Client that you wish to change the Expunge Time for, then click the Edit link that will appear once you hover over that Client's row.
Go to the Retention

tab.
By default, the Expunge Time is set to Indefinitely. Please note that:

"Indefinitely" means that no emails will ever be removed from the archive. Choosing "Monthly" or "Yearly" in the dropdown menu means that all emails that have been in the archive longer than the defined period will be automatically deleted.
Once deleted, the emails cannot be restored to the archive. Emails with Legal Hold and Rules tags will not be affected by the global expunge.

If you want to change the expunge time, click the Change Expunge Time button and you will be presented with a popup listing the following options:
Yearly - (1-20 years)
Monthly (1-11 months)
Indefinitely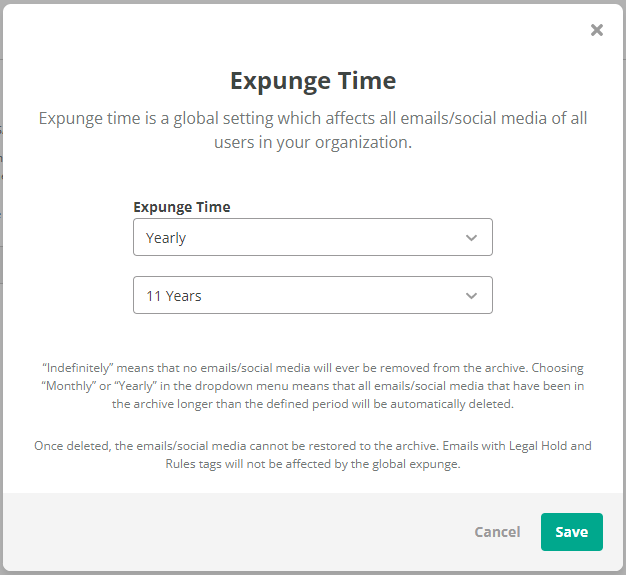 Once you have changed the expunge time, click the Save button. A notification will appear to confirm that the Expunge Time has been successfully changed.