As an MSP Admin or Account Admin (or a user with a custom role that allows Import), you'll be able to onboard your users quickly using a CSV file.
To do this, you need to:
Log into the Jatheon Cloud platform as an MSP or Account Admin
Head over to the Users section
If you are an MSP Admin, you'll have to Choose the Client whose users you wish to import. (Note that this steps is not relevant to Account Admins. They will be presented with the users belonging to their organization.)
Click the Import button

The Import Users pop-up window will appear, where you'll need to click the Choose CSV button in order to proceed with the CSV upload.
You'll also be able to Download CSV Template. This will make it easier for you to organize the data before uploading the file.
Once you click the Choose CSV file, you'll see the Choose Mapping Fields pop-up. There, you'll need to map your CSV columns with the fields in the Jatheon Cloud platform.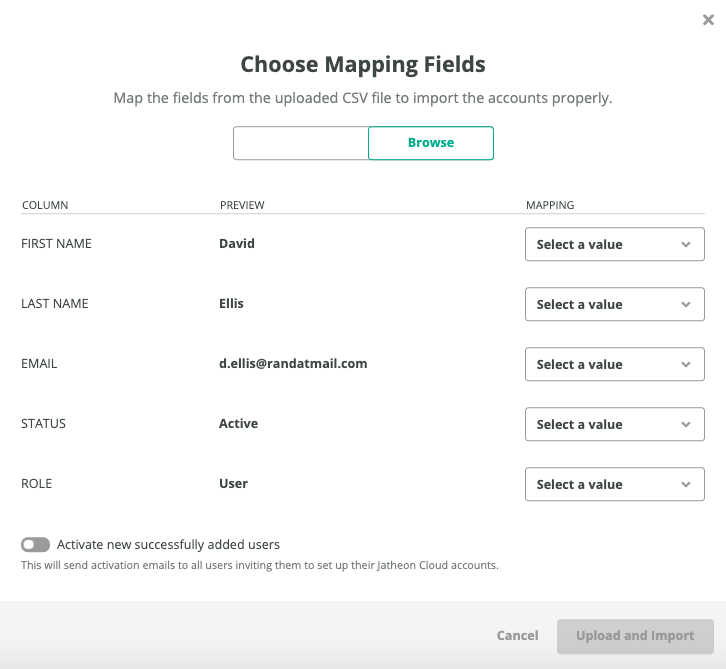 The fields in the first column are the names of the columns in your CSV file (the first row of your CSV file).
The fields in the second column contain the actual preview of the data in your CSV file (the second row of your CSV file) so that it is easier for you to complete the matching.
The fields in the third column are the values against which you need to match: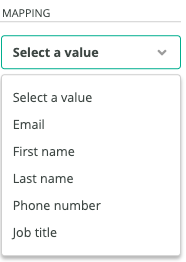 Email, First name and Last name are the mandatory fields that need to be chosen before you can proceed with the CSV import.
There is also the Activate new successfully added users switch in case you want to activate all the CSV users right after the import. If you choose to do so, they'll get a verification email and will be able to use the Jatheon Cloud platform. You can decide to activate them later from the Users section (This process is explained in How to Activate/Deactivate a User article).
Once you click the Upload and Import button, you'll be presented with the progress pop-up: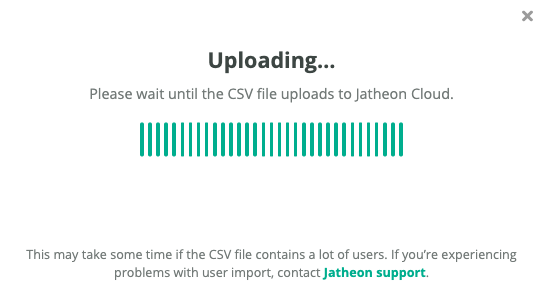 As soon as the CSV file is processed, you'll be presented with the Users section listing all the imported contacts.