As an MSP Admin, you'll need to log into the Jatheon MSP platform to be able to manage all your Clients.
Once you're in, head over to the Clients section and find the Client you want to manage. You can do this either by searching for their name in the Filter results... field or by finding it in the table.

You will be able to see the basic info on each Client:
Type – Paid
Status – Inactive/Active
ID
Company Name
MSP Name
Domains - the number of entered domains
Users – the number of users
Inboxes – the number of active mailboxes/total mailboxes
2FA – Enabled or Disabled
To deactivate or activate a Client, you'll need to click the More menu (represented with the ... symbol) and choose the appropriate action. You'll then get a toast notification confirming the successful action. Once a Client is deactivated, none of its users will be able to log into the Jatheon Cloud platform.
Please note that you will be able to delete a Client only if it has no associated Users. If it has at least one user, you'll be presented with a pop-up message stating that all the attached users would need to be deleted first in order to be able to delete a Client.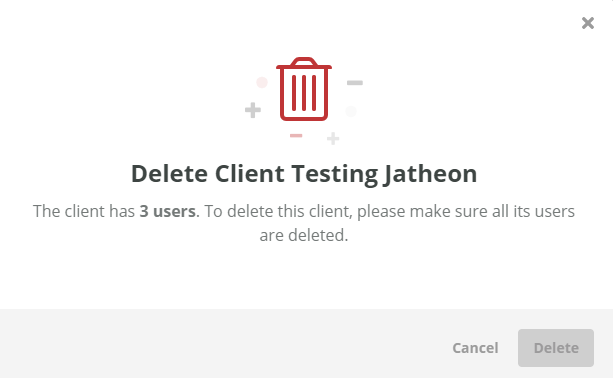 To edit Client info, click the Edit option (It will appear when you hover over the row of that particular client) and you'll be presented with different tabs, each representing different settings.
The first one – Home – displays the basic Client stats:
The second one – Configuration – shows the following:
There, you'll be able to change the Client name, their Status (in case you set it to Inactive, the Client will be deactivated), Client Type and Timezone. The remaining fields are set when the Client is first created and cannot be edited later.
The third one – Information – shows the following: