As a Compliance Officer, it is really important to have an option to write a Note for an email/social media item so that you, as well as fellow Compliance Officers, can easily view all the added comments.
The Notes are shared among the Compliance Officers that belong to the same Client.
Adding a Note
In order to Add a Note to an email, you need to:
Log into Jatheon Platform as a Compliance Officer.
Head over to the Search section.
Find the email/social media item that you want to add a Note to.
Click on the email so that it opens up on the right-hand side.
Go to the More Menu in the Action bar.
Click the Add Note option.
Once you click the Add Note option, a pop-up will appear where you can enter the Note (max 500 characters).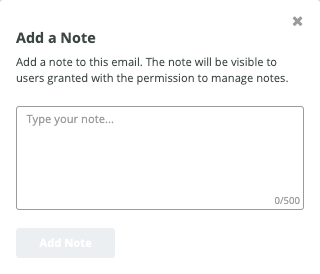 You need to click the Add Note button and a toast notification will appear to let you know that you have successfully added a Note.
The newly added Note will then presented above the Email/Social Media Item body, where you can also see the total number of notes, e.g. Notes (7).

Deleting a Note
To delete a Note, click the trash can icon and confirm the Delete action in the confirmation pop-up. Once you click the Delete button, a toast notification will show up to let you know you have deleted the Note.
Also, when there are more Notes, there will be a Show More link that expands the section and presents all the other Notes. You can easily collapse them all by clicking the Show Less link.