In case 2FA is enabled for the organization you are a member of, you'll need to set it up by following the next steps:
Step One: Scanning the QR Code (You'll do this only when setting up 2FA for the first time.)
1. Log into the Jatheon Cloud platform by entering your credentials (email and password)
2. The page will display the QR code that you'll need to scan using one of the Authentication applications. We use Google Authenticator, but you can use any other similar app.
3. Enter the 6-digit code in the designated field and
4. Click the Continue button.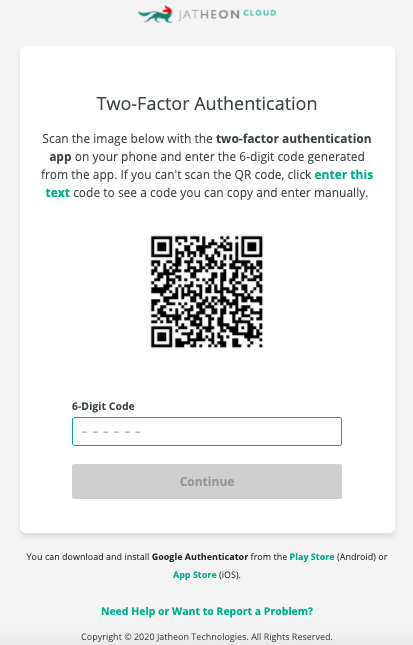 If you have trouble scanning the QR code, you can also use the text code.
Click the "enter this text" link and then enter the 16-digit code in the Authentication app to obtain the 6-digit code that you need to enter on this page.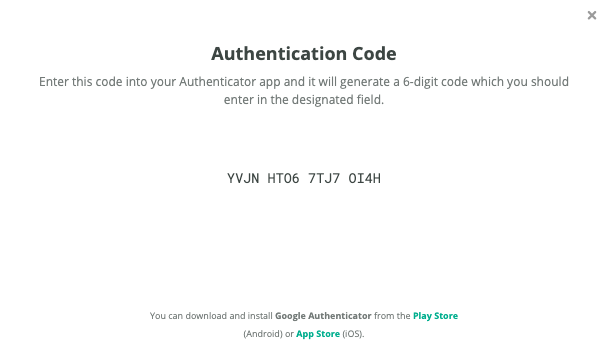 Step Two: Recovery Codes

Once you've completed Step One, you'll be presented with a screen listing all the recovery codes. You'll be able to use these in case you're not able to enter the 6-digit code for whichever reason.

We strongly suggest that you download these codes by clicking the Download Recovery Codes link. Please note that you won't be able to obtain them again.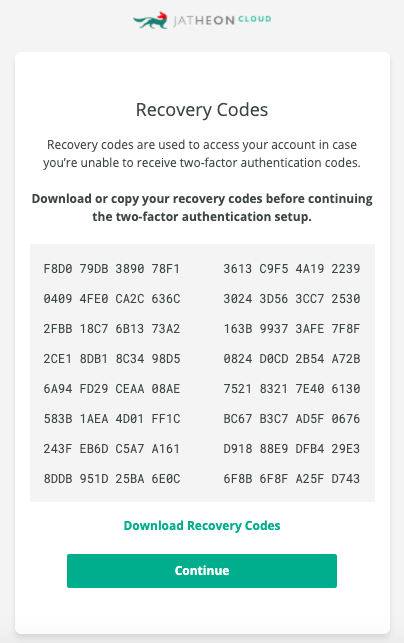 Once you've saved the recovery codes, the 2FA setup process is complete.
From that moment on, you'll need to enter a 6-digit code generated by the Authentication app every time you log in.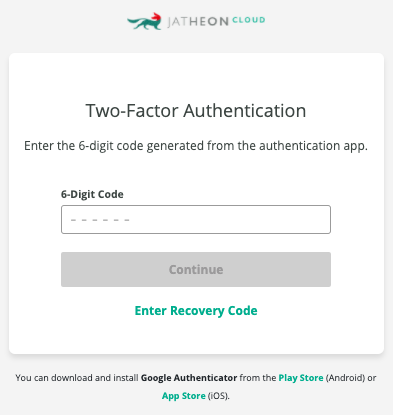 Remember that if you're unable to enter the 6-digit code for any reason, you'll still be able to log in by entering one of the recovery codes. Each recovery code can only be used once.

To use a recovery code to log in, click the Enter Recovery Code link and you'll be presented with a window containing the field where you need to enter the 16-digit recovery code.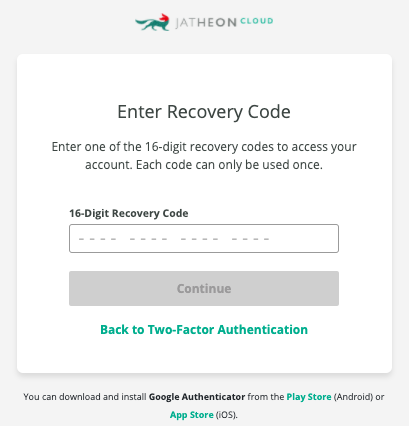 Enter the code, then click Continue and you'll be logged in.

Just a note that you will need to enter the 2FA 6-digit code every time you log in unless the admin disables it for your organization.