If you'd like to apply a tag (Personal for everyone or Legal Hold for compliance officers) to more emails at once, follow this process:
Once logged in, just head over to the Search section and find the emails you'd like to tag by using a combination of appropriate filters.
Select the emails by clicking the checkbox on the left and then click the Apply Tag button that will become active as soon as you select at least one email.

You will be able to select the tag type you'd like to apply to the selected emails. Remember that Personal Tags are available to everyone, while Legal Hold and Retention Tags can only be used by compliance officers.

Next, choose whether you want to tag only the selected emails or the entire page you're currently on.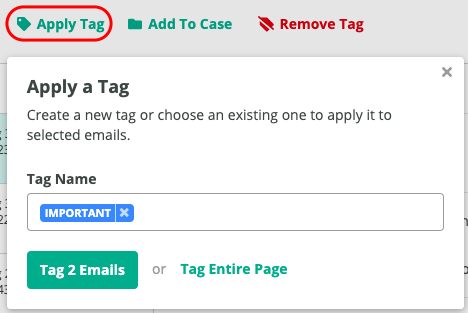 To remove a tag from multiple emails, you'll first need to select the emails from which you wish to remove a tag and then click the Remove Tag option.
A pop-up message will appear where you will be able to search for a particular tag and select it. You can choose to remove it from the selected emails or the entire page.